You just never know around here!  Even as I am preparing to leave for a speaking tour in Australia and New Zealand, the door keeps revolving!  How much fun is that!  The summer is past and we look back with fondness and appreciation for our international visitors, neighbors, friends and family who frequent our table.  And what a table it was – with all the goodness on the plate grown on our farm!
In between the farm and on tour, I took the time to speak this summer with a focus on youth (that is anyone under 40 in my books).  The final kicker was the Youth Ag Summit sponsored by 4H Canada and Bayer where I spoke about leadership.  I have been in rooms with great minds such as the Nuffield Scholars from around the world, but this collection of international delegates, aged 18-25, and was amazing.    They radiated confidence and success, class and smarts.  They will truly be our future leaders. It was an honor and a humbling experience to be asked to speak to them and I was overwhelmed by the individual greetings and feedback.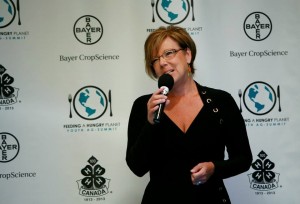 Speaking at the Youth Ag Summit in Calgary (courtesy Photo)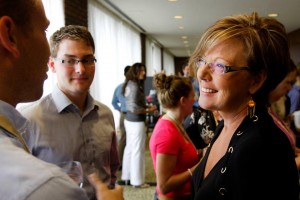 Learning from each other. Youth Ag Summit.  (courtesy photo) 
We learn from each other and we grow together.  How lucky am I that folks from all over the world come to stay at our humble home!  Matt and I talked about owning our own future, James and I talked about life and the beauty of living with gratitude, Robert was so keen on new technologies that he kept us hopping and Jamie was an instant family member as soon as she walked through the door.  These are just a sample of the blessings that come to us when we open our hearts and our homes, when we open our minds to the world and all the good that is in it.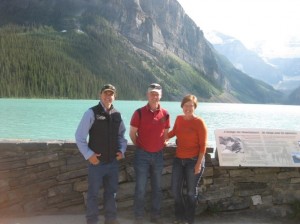 Photo:  Traveling in Canada with James of Australia and Robert from Scotland.
This fall, I will be living out of a knapsack and once again putting on over 25,000 miles of travel.   I will visit, work and play with the people I meet and always learn along the way.  Right now it is just about a little preparation and a lot of prayer as I travel across the southern hemisphere through New Zealand, Australia and Fiji to speak with men and women farmers, leading organizations and tribal leaders.  Then a winter voyage across Canada in January only to change out of winter clothes in February to work with the farmers in Cuba and build systems with them, earning my international permaculture certification in the process.  I personally will host a tour of international delegates through Nuffield in July and the following year I start with a group of Canadian women as we travel to South Africa (on invitation) and then tour the world's farms for a month.  Farms owned and/or operated by women – communities dependent on farming women – trade dependent on women and their businesses –  countries built and sustained by women in agriculture.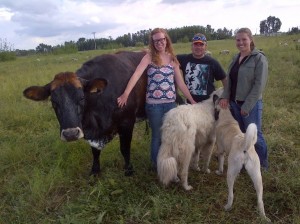 Photo: Our international family grows.  Fellow scholar and farmer Jamie from Wales (right) with Shayne and Vicky Horn of Tangle Ridge Ranch, members of our young entrepreneurs group
This is an exciting time in our history and this work will be one of the most important pieces for Canadian agriculture.  Stay with me for the ride and I promise color and surprise.  Keep the table set – I may be in your country for dinner!  In the meantime – keep coming to ours.  You are welcome and a gift to me!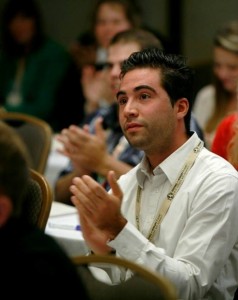 If I, can for a moment, transform your life into meaning, ignite your passion for your purpose or walk beside you along the trail, I will have considered my life blessed and the journey worthy.  Brenda